Writers' Educational Community
Writers Helping Writers Since 1995
The first, the largest, the best online university for writers.
Writers' Village University is more than a great place to learn how to write; it's a living, breathing community of writers from around the world. Education should be a life-long pursuit for beginning and experienced writers. At Writers' Village University, you'll get to know a community of friendly, helpful members who have made education an important part of their lives.
The "Village," as members refer to Writers' Village University, is a full-time support service. We offer over 300 writing courses and add new classes regularly. As a member, you may take as many courses and workshops as you'd like. It's all included with your membership. Certificate Programs and Writing Groups are available for every level of writer. If you're a beginner, you won't have to worry about harsh, intimidating criticisms of your work. We prefer to encourage and build confidence. For advanced writers, we provide workshop guidelines that encourage detailed, constructive criticism with an emphasis on craft and author intent. 
---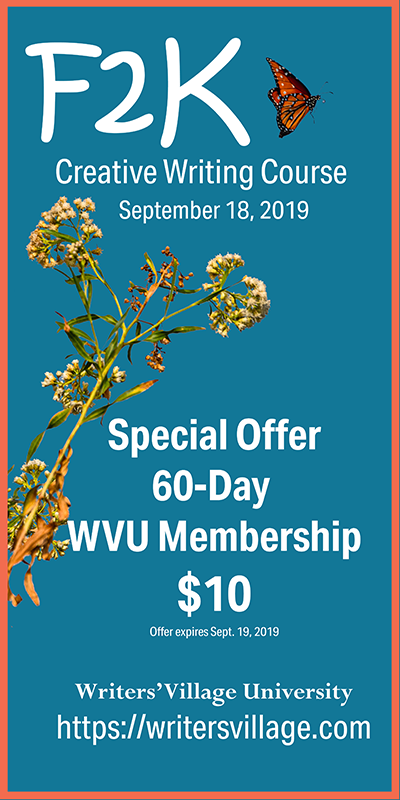 F2K Special
60-Day Trial WVU  Membership for $10, then $10 per month.
Cancel anytime through PayPal.
 Please allow up to 24 hours to set up your membership. You will receive a welcome letter and login information once your account is completed.
WVU
SEPTEMBER
MFA162 Flash Fiction - Staying True to the Image
(September 05, 2019)
MFA01 THE GENTLE ART OF THE PERSONAL ESSAY
(September 05, 2019)
MFA355: Verse Forms
(September 05, 2019)
MFA801 Six Memos for the Next Millennium Workshop
(September 09, 2019)
L305 Things Fall Apart - Chinua Achebe
(September 10, 2019)
B101 WVU Orientation
(September 11, 2019)
P172 Poetry Triggers - Using Music as an Inspiration to Write Poetry
(September 11, 2019)
MFA218 Adding Humor to Fiction
(September 12, 2019)
MFA251: Story Focus
(September 12, 2019)
L242 Katherine Mansfield Short Story
(September 17, 2019)
F2K Creative Writing Course
(September 18, 2019)
B306 The Middle - Part One: Time and Space
(September 18, 2019)
B101 WVU Orientation
(September 18, 2019)
MFA163 Flash Fiction - Meta-Narrative
(September 19, 2019)
MFA02 THE PERSONAL (NOT PRIVATE) ESSAY
(September 19, 2019)
F140 Short Story Workshop – Linear
(September 25, 2019)
B307 The Middle Part Two: Bringing Abstract Ideas to Life
(September 25, 2019)
B101 WVU Orientation
(September 25, 2019)
MFA352: On Poetry and Writing
(September 26, 2019)
MFA219 The Purpose and Practice of Revision
(September 26, 2019)
MFA252 Emotions and POV
(September 26, 2019)
MFA756: Linked Short Stories or the Novel-in-stories Workshop
(September 30, 2019)
OCTOBER
L243 Kate Chopin Short Stories
(October 01, 2019)
B308 The Middle Part Three: Transitions
(October 02, 2019)
B101 WVU Orientation
(October 02, 2019)
MFA03 WRITING THE MEMOIR ESSAY
(October 03, 2019)
MFA164 Flash Fiction - A Short Short Theory (Robert Olen Butler)
(October 03, 2019)
B101 WVU Orientation
(October 09, 2019)
MFA220 Editing and Polishing
(October 10, 2019)
MFA253 What Protagonists Want
(October 10, 2019)
L302 Middlemarch
(October 15, 2019)
B101 WVU Orientation
(October 16, 2019)
N142 Journal-Keeping
(October 16, 2019)
MFA04 The Classically Modern Essay
(October 17, 2019)
MFA165 Flash Fiction - Getting the Lead Out
(October 17, 2019)
L233 Chekhov Short Stories (Form and Setting)
(October 22, 2019)
B101 WVU Orientation
(October 23, 2019)
F162 Character Driven Plots - The Big 5
(October 23, 2019)
MFA 231 Art & Artifice
(October 24, 2019)
MFA254 Protagonist Inner Issues
(October 24, 2019)
L310 The Moons of Jupiter - Alice Munro
(October 29, 2019)
B101 WVU Orientation
(October 30, 2019)
B304 Adjectives and Adverbs - The Pros and Cons
(October 30, 2019)
L306 Swann's Way - Proust
(October 31, 2019)
MFA05 The Contemplative Essay
(October 31, 2019)
MFA166 Flash Fiction - Prose Poetry
(October 31, 2019)
NOVEMBER
L315 Midnight's Children - Rushdie
(November 05, 2019)
B101 WVU Orientation
(November 06, 2019)
B105 Punctuation 
(November 06, 2019)
MFA232 Backstory
(November 07, 2019)
MFA255 Story Is in the Specifics
(November 07, 2019)
L311 W. W. Jacobs Short Stories (1 Week)
(November 12, 2019)
B303 Point of View
(November 13, 2019)
B101 WVU Orientation
(November 13, 2019)
MFA356: Shaping Forms
(November 14, 2019)
MFA167 Flash Fiction - Put Yourself in Danger
(November 14, 2019)
L307 Mrs. Dalloway (Virginia Woolf)
(November 19, 2019)
B154 Finding Your Voice
(November 20, 2019)
B101 WVU Orientation
(November 20, 2019)
MFA256 Conflict and Change
(November 21, 2019)